We create visualizations, 3D characters and 3D animations
By means of 3D visualization you inspire and touch your customers emotionally. Visualize your ideas! Bring your characters to life! Nothing is impossible, too big or too small for the 3D animation.
In 3D production, WE have many years of experience and OFFER YOU in a high-end quality

THE FOLLOWING:
Using 3D visualization we are able to show what cannot be seen or is very difficult to see. Theoretical processes or procedures, cities, peoples and animals from the past, spaceships and technology from the future, or even life in micro- and macrocosm can be made tangible and visible using this technique. For the research, science and engineering visualization can be very useful.
3D animations bring the 3D visualizations into motion. Hardly one could imagine a movie production without 3D animation, e. G. corporate video, advertising film, industrial film, music video or movies for marketing. Everywhere we can help you make your movies look modern, exciting, contemporary and up to date using the latest 3D animation technology. We are very happy to use our knowledge and skills in 3D space at the highest level for the production.
3D visualization of virtual characters are being used increasingly in many areas. We can visualize the characters at the highest level. On the basis of a drawing we will produce your character. Furthermore, we can create the 3D character animation for you. It does not matter whether you order an animal, a human or a robot. Character animation is our core area.
Our solutions for marketing your products
Services – 3D visualization
Process visualization
Product visualization
Architectural Rendering
Technical visualizations
Medical 3D visualizations
Visualization for games (Game assets)
3D visualizations of 360 ° panoramas and virtual reality
Computer visualization for an image film
Explanation video / Educational film
Exhibition films / image films
Advertising / commercial
Animation for product presentation / product film
3D animations for games
Animations for process visualization / technical visualization
3D animations for cartoons / 3D film production
Animations for Virtual Reality
Character Design
Character Modeling / Sculpting
Character-Setup / Rigging (face and body)
3D Character Animation (Face and Body)
3D characters for games
Characters for cartoons
Photorealistic 3D portraits
3D Character reconstructions
LotusArt Studio was founded in 2002. We are a dynamic, flexible company in the service of your projects. The team consists of a network of graphic designers, animators, video and compositing operators, who have turned their passion into a profession. Therefore, you do not need to worry about anything, you will get your 3D visualization as usual from a single source.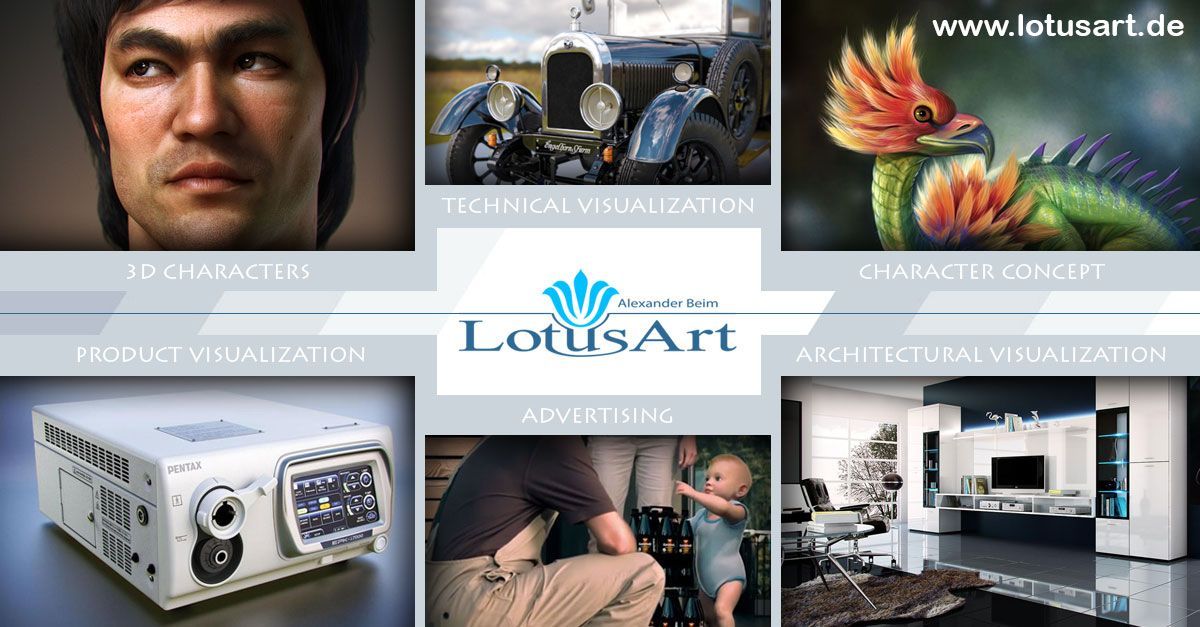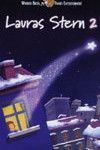 Games:
Azentas World, 3d-io games, Rtl Wintersport, Westernpferd, Weddingsplaner, Wendy, EisbaerBabySuperstar, 22 Hunde-spiele, Yeti Sports – Penguin Party Island.
Cartoon:
Sat1-Trickserie: "Junior", Der kleine Eisbaer, Lauras Stern 1 & 2
Technical 3D visualization:
Brother Drucker, Leoni, ALBIS Messefilm, Fluvo Wasserpumpe.
Realtime Internet Projects:
Virtual Female Guide for AVirtualus.
Advertising-music:
Trance Angel, Club Rotation, Dream Dance.
Visual Effects:
integrated virtual character "Teddy Bears" for Dorint.
Architectural Rendering:
Olpenitz, Conference Building for Dubai, Bad Kreuznach, Bad Kreuznach II, Baden Baden Project.
Commercial:
Hubba Bubba, Good Year, Dior, TuiFly, AirBerlin, Phyzex Robot Logo Animation, Jewellery diamond Ring, Fluvo Logo Animation, Logo Port Olpenitz, Lomapharm Logo Animation, Imagefilm für Heritus AG.






















If you are convinced of the benefits of spatial digital visualization and want to help your customers to experience spatially your ideas in a creative, artistic design, then tell us your basic ideas and we will bring them into shape and movement.
Absolute quality and timely delivery are our top priorities.
Contact us for a non-binding cost estimate, regardless of the size of your project